Scans, Informs, & Promotes for Greater Customer Satisfaction & Additional Upsell Sales
Now your customers can have instant answers to questions about products in your store with S.A.M., the Shopper's Answer Machine. S.A.M.easily checks the price of any item, anywhere in your store and responds with customized upsell/cross-sell messages at the same time. Imagine the positive impact the Shopper's Answer Machine from Gyricon could have on your bottom line.
These LCD-based customer service devices are located in store departments for greater shopper convenience. When they scan the bar code of any item, the correct price appears on the screen, along with detailed product information. This description can even include moving video images of the product in action. S.A.M.can provide messages about compatible products, encouraging added sales. When not scanning a specific product, the device functions as a dynamic display sign showing in-store promotions, full motion video or even a store map.
FEATURES: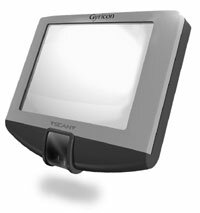 Displays the accurate price when bar code is scanned
Displays detailed product information (description, reviews, images, etc.)
Upsells/Cross-sells related products, promotions, etc.
Runs ads or signs in-between customer uses
Can be programmed to locate products via store floor plan
Functions as store directory
Hardware design is customizable to reflect company image or promotional campaigns
Built-in upgradeability to support MaestroSign" product family
Part of the MaestroSign" family of products... changing the way you conduct business.
S.A.M.EQUIPMENT SPECIFICATIONS
Display
10.4 VGA Color Screen
Mounting
Wall, pole, stand-alone, kiosk, custom mounting
User Interface
Touch screen ready Multilingual Display Support (content dependent)
Scanner
Wide scanning angle
Casing

Customizable

Enhanced Features
Audio ready (microphones and speakers)
Printer ready
Keyboard and mouse ready
MaestroSign" System Interface ready
Updates/Network
RF 802.11B (10/100 wireless network ready)
Software
MaestroWare" Software
Accurate pricing requires connectivity to P.O.S. database
Available 4th Quarter, 2001