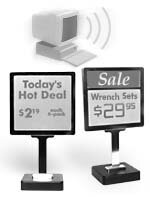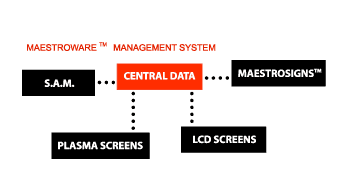 MaestroWare" is an innovative, scalable client-server technology for the design, wireless transmission and real-time management of dynamic screen display and advertising content. It is revolutionizing the display landscape of single retail stores and entire retail chains.

Through an intuitive web-based interface, MaestroWare lets you easily manage the content of every sign. It seamlessly accesses product descriptions and prices from existing retail databases for superior system efficiency and ROI.

For Store Merchandisers, MaestroWare supports scheduling of display content network-wide from minutes to years in advance based on retail requirements such as promotional plans, sales, events and price changes.

For Store Planners, the MaestroWare interface with AutoCAD" enables visualization of specific display locations within retail environments and highlighted category performance data.
And MaestroWare supports the MaestroSign" family of SmartPaper" and S.A.M. Scanning products as well as LCDs, gas plasma screens, touch screens, TV/VCRs and video monitors.

FEATURES:


Uses Internet/Intranet technology to handle distribution, scheduling and verification of signage


Synchronizes signage prices with those at store cash registers


Fully scalable from controlling a few signs in a single store to thousands across an entire retail chain


Supports scheduling of display content network-wide from minutes to years in advance


Easy access to data for signage use in existing retail databases to realize and review ROI


Captures information in management reports and supports Crystal Decisions Crystal Reports"


Represents new co-op advertising opportunities through scheduling and management functions


Written in Java" and other Web standards, MaestroWare" supports many of todays popular operating platforms


Supports Oracle", SQL Server, Informix" and any other ODBC-compliant databases


Interfaces with industry-standard software tools for image creation and manipulation


Interfaces with industry-standard software tools for planning





SOFTWARE SPECIFICATIONS: NETWORK CONNECTIVITY
Software Components
Virtual Database
Access Manager
Provides quick and easy access to data in most existing retail databases,enabling rapid implementation and ROI
Sign Manager
Supports sign group assignment & management according to any retail hierarchy including regions, districts, market clusters and single stores as well as locations within a store (from departments to shelf levels)
Sign Editor
Supports multi-media sign design and editing of content with todays popular HTML editors. MaestroSign" Editor included
Sign Scheduler
Supports multilevel scheduling of display content network-wide from minutes to years in advance, based on retail requirements such as promotional plans, sales, events, price changes, etc.
Management Tools

Supports system administration at any level from corporate office to a single stores backroom with alerts, system status monitors and a reporting tool interfaced with Crystal Reports
| | |
| --- | --- |
| Supported Display Technology | LCDs, gas plasma screens, touch screens, TV/VCRs, video monitors and displays made with Gyricon Media SmartPaper" |
| Network Connectivity | Standard TCP/IP protocol, Ethernet and RF 802.11B wireless networks |
| Security Systems Controls | Utilizes 128-bit encryption in its wireless network, and also supports any security measures employed by net-work administrators including password protections and user-level authorizations |
| Supported Operating Systems | Java, Microsoft Windows 2000 with service pack 2 or above and NT 4.0 with service pack 6A or above |
| Supported Databases | Oracle", SQL Server, Informix" and any ODBC/JDBC-compliant databases |
| Supported Content Types | XML, HTML, DHTML, Java", Javascript", VBScript" |
| Supported HTML Editors | Microsoft FrontPage", Macromedia Dreamweaver" and Cold Fusion", SoftQuad HoTMetaL" and other popular HTML editors |
| Minimum Hardware Requirements | One base station controller PC server (500 MHz with 128Mb) and one base station which connects to the PCs RS232 port in order to control Gyricon Media SmartPaper" signs and/or LCD or gas plasma displays |
Part of the MaestroSign" family of products …changing the way you conduct business.

Accurate pricing requires connectivity to P.O.S.database
Available 4th Quarter, 2001